BTC Price Bounces Below $23K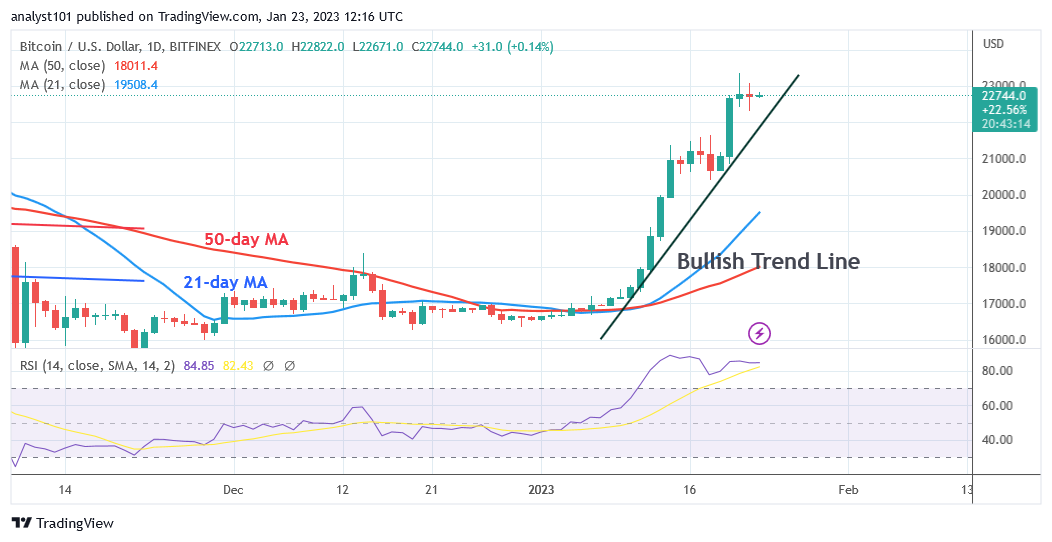 Join Our Telegram channel to stay up to date on breaking news coverage
Bitcoin Resumes Trading in a Narrow Range as BTC Price Bounces Below $23K – January 23, 2022
BTC/USD is swaying below the $23,000 resistance level as BTC price bounces below $23K. In the last 48 hours, the bullish momentum has slowed. Given that Bitcoin is heavily overbought, there is a chance that the price will reverse. Bitcoin may experience a decline to the low above the $21,000 support.
Bitcoin Price Statistics Data:•Bitcoin price now – $22,732.00•Bitcoin market cap – $438,151,879,821•Bitcoin circulating supply – 19,269,912 BTC•Bitcoin total supply – $477,394,241,943•Bitcoin Coinmarketcap ranking – # 1
Resistance Levels: $50,000, $55, 000, $60,000 Support Levels: $25,000, $20,000, $15,000
Following the recent price rally, Bitcoin (BTC) is currently bouncing below the $23,000 resistance level. After rising above the $23,000 resistance level, the bullish momentum has slowed. On the upside, buyers are anticipated to pick up speed and start climbing toward the $25,212 high. As the market has reached its bullish exhaustion, further upward movement is unlikely. The BTC price will retrace to the prior low above the $21,000 support to start an uptrend. The price of Bitcoin has recently made a string of higher highs and higher lows. However, the BTC price is above level 84 of the daily Stochastic indicating that the market has reached the overbought region.
El Salvador Passes a Historic Crypto Law That Opens the Door for Bitcoin-Backed Bonds
In addition, the "Digital Asset Issuance" legislation will establish a legal framework and a regulatory body for all digital assets. El Salvador recently passed historic legislation that establishes the legal foundation for a Bitcoin-backed bond, dubbed the "Volcano Bond," that will be used to pay down the country's debt and finance the development of its envisioned "Bitcoin City." With 62 votes in favor and 16 votes against, the bill was approved on Jan. 11. It will become a law once President Bukele ratifies it. On January 11, the National Bitcoin Office of El Salvador tweeted about the bill's passage and said it would soon start issuing the bonds.
Bitcoin is currently stable above the $22,700 support as BTC price bounces below $23K. Buyers were turned off as they attempted to push Bitcoin to a high of $23,353.Since January 21, the cryptocurrency asset has traded in a narrow range between a support level of $22,700 and a high of $23,000. On the downside, the selling pressure will pick up again until the $21,000 low if Bitcoin retraces below the $22,700 support.
During this time, the price of Bitcoin continued to rise, reaching a high of $23,353. Similarly, other cryptocurrencies have continued to recover.Traders can benefit from the MEMEG coin because it provides high rates of return on investment. The Play-to-Earn guild with the fastest growth this year is Meta Masters Guild (MEMAG). It is likely to outperform all other Web3 mobile gaming guilds. It is feasible to create intriguing and entertaining video games that utilize NFTs. Members of the community are rewarded for their investments and speculation there. The MEMAG presale is ongoing and close to $1.5 million has been raised so far
Related
• Meta Masters Guild – The Fastest Growing Play-to-Earn Guild of 2023• How to buy MEMAG
Meta Masters Guild – Play and Earn Crypto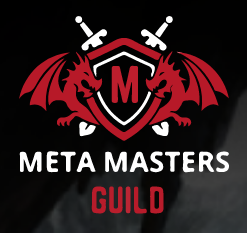 Innovative P2E NFT Games Library Launching in 2023
Free to Play – No Barrier to Entry
Putting the Fun Back Into Blockchain Games
Rewards, Staking, In-Game NFTs
Real-World Community of Gamers & Traders
Round One of Token Sale Live Now – memag.io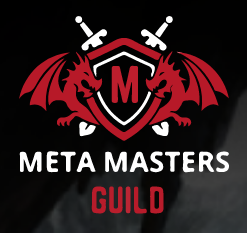 Join Our Telegram channel to stay up to date on breaking news coverage